We're ready to cast
your next project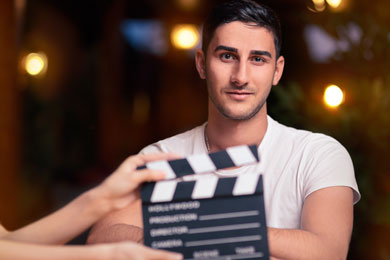 As a diverse team of casting experts, we are passionate about selecting the best Talent for exciting media projects, just like yours. This passion has allowed us to foster relationships built on trust and commitment with all our clients, no matter the casting needs.
WE ARE TRUSTED BY INDUSTRY LEADERS
We have created long-lasting relationships with our renowned clients, which include major broadcasters, streaming service providers, film production companies, and event management agencies. They rely on us to supply them with the most qualified Actors, Models and Performers in Ireland. We always deliver results.
our process
is fast & simple
With us, you will not need to look into a massive database trying to find the perfect Actors or Models for your project.
Working with us is fast and easy, you just need to:
We will have a deep look into our Talent pool, finding who fits your needs and expectations. Then, we will send you our best selection of suitable and available Talent. The only thing you need to do is to choose your favourites.
We will book the selected Talent and be your go-between until the shoot. Afterward, we will touch base to find out how everything went (we always like to know!) and ask for any feedback for us and our Talent.
After the shoot, we will invoice you for the performer's fee, and we pay them through our Payroll system, keeping you compliant. All this is at no additional cost to you, only the fee for the Talent you booked.
don't take
our word
for it
Have a look at what our clients are saying about us.
Hopefully, we will be adding your review to our list soon!
''We actually got so much positive feedback from the cast to say it was one of the best sets they were on. That's what happens when you get a great team together and have a collaborative mode on set with the cast. Thanks so much for all your help with this project, I will definitely be in contact for future productions we get in.''
"Casting Ireland have always been an absolute pleasure to deal with. I've found the whole team incredibly helpful and professional at all times. Whatever the brief or whatever the time frame, they've always approached each job with an enthusiasm to deliver the very best results.''
"Thank you so much for all your help. It wouldn't have gone half as well without you. Can't wait to work with you again in the future!"
"Always such a pleasure to deal with you! Thank you for all your great help over the last couple of years and looking forward to working with you for many more."
"Always so happy to refer production companies to you - we know whoever we send your way will be well taken care of."
"What a team!!!! Casting Ireland is my go-to for casting in both reality and scripted productions. Highly recommended."
"We have worked with the team at Casting Ireland for a number of years and they always deliver for our productions, big or small. The team are a pleasure to deal with, always quick to respond to our brief and provide an impressive range of options from the talent on their books. We would highly recommend them to any company casting extras, actors or models for their production."
"When looking for the right people to be a part of your project, you turn to the people you can trust, who understand your business and will deliver within your deadlines without any fuss. This is why, time and time again, I have sought Casting Ireland's help for my projects and will continue to do so for the foreseeable future."
Music and corporate videos